The Timeless Songs of Barbara Streisand
The Timeless Songs of Barbara Streisand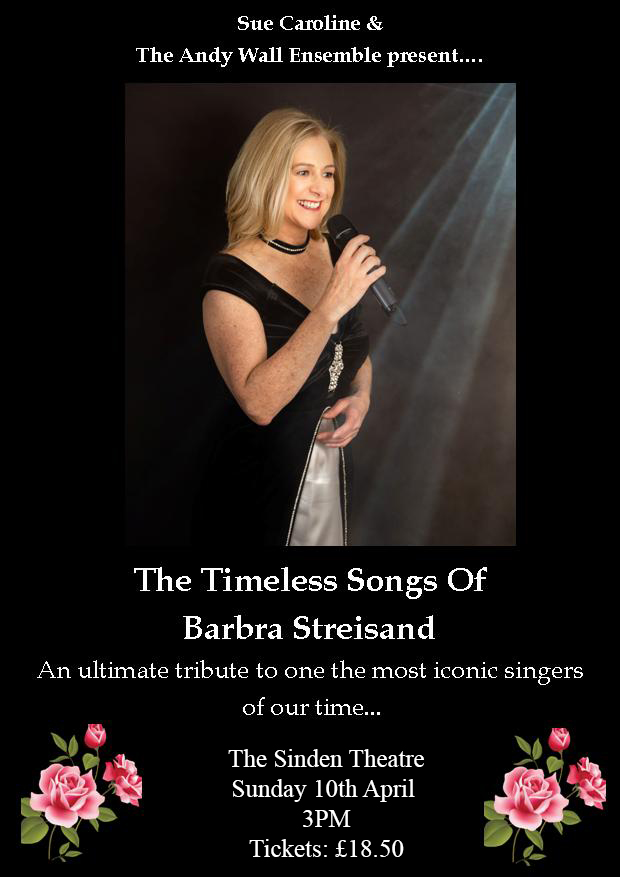 Sue Caroline and The Andy Wall Ensemble present an acclaimed showcase of The Timeless Songs Of Barbra Streisand, featuring a live band, creating a stunning and captivating tribute to one of most iconic singers of our time.
With years of experience, performing stage, cabaret and concerts, top vocalist Sue Caroline's vocalization and tone has received high acclaim. This show will take you on a journey of a singer who's early years were inspired by the voice and songs of Barbra Streisand. With the unique arrangements transcribed from Barbra's live performances by the renowned Clive Dunstall whose credits include pianist for BBC Concert Orchestra and The Royal Philharmonic Concert Orchestra and current MD for Anton Du Beck & Erin Boag,  to give the full orchestral experience of Barbra's 58 piece orchestra!
 The Andy Wall Ensemble, featuring Andy Wall as MD, a former member of Royal Marine Band Service on The Royal Yacht Brittannia for 6 years performing for Her Majesty the Queen. Alongside Andy are the highly accomplished James Taylor, Martin James and Dave Robinson resulting in a fantastic professional four piece band.  
 A truly captivating tribute show featuring songs from Barbra's amazing seven decade career including live arrangements of Barbra's famous Timeless: Live in Concert tour which opened on New Years Eve 1999, together with songs from Barbra's stage, film and recording career including People, The Way We Were, Memory, Don't Rain On My Parade, You Don't Bring Me Flowers and many more.
Whether you are a fan of Barbra Streisand, or a fan of quality and great music, this is the show for you!