Lone Star Comedy Club
Friday 28th February 8:00pm
Friday 28th February 8:00pm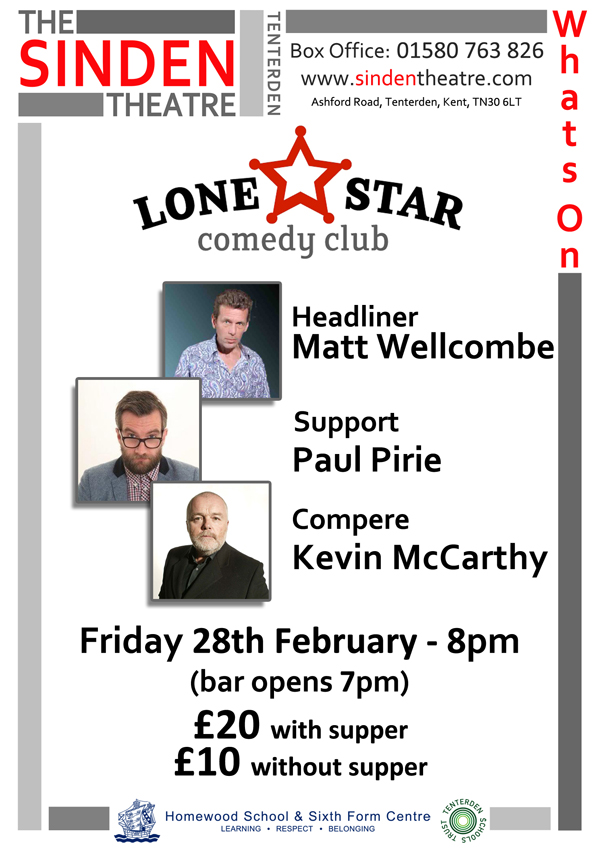 Matt Wellcombe - Headliner
Matt Welcome is a comedy veteran and a supreme talent. He was a TV regular long before stand up comedy was fashionable, appearing on 'Live At Jongleurs' (ITV) and 'The Ardal O'Hanlon Show' (BBC).
His material is impressively tight with not a word or pause out of place. His conversational style and well crafted lines create a wave of hilarity.
"Superbly crafted jokes and exquisite timing" Paul Sinha
 
Paul Pirie - Headliner
Paul Pirie began his stand-up career after giving up acting to pursue the funny man that lies within, quickly establishing himself on the Scottish comedy circuit before lauching onto the UK comedy scene. It should be pointed out that when Paul started stand-up in 2004 he was living with his Gran, having given away the keys to his flat in a pub quiz. Since this time Paul's career has encompassed TV, Film and Radio alongside his burgeoning skill as a stand-up with Paul emerging as one of the biggest Scottish acts on the UK comedy circuit.
"Fizzing with energy and spewing out one-liners like he had just scoffed a dodgy prawn, Pirie is a man we will be seeing more of" – Daily Record
"His delivery is superb" – Chortle
Kevin McCarthy - Compere
His experience and ability to connect to any audience is almost legendary. When it comes to any aspect of the comedy business he delivers, and delivers to an exceptionally high level.
"Haven't seen such a talent in a very long time, if ever. Laughed till it hurt" Chortle
The supper choice for this performance are:
Chicken Curry with Pilau Rice
or
Vegetable Curry with Pilau Rice
Both come with a mini naan bread and a poppadom