Lone Star Comedy Club
Friday 8th November 8:00pm
Friday 8th November 8:00pm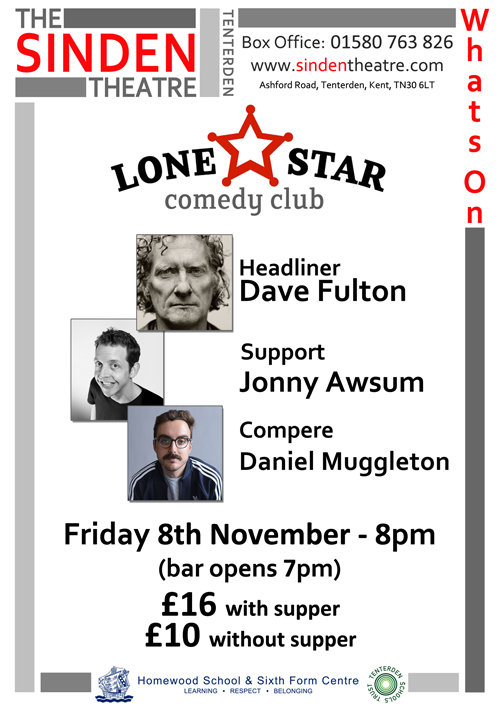 Dave Fulton - Headliner
Started comedy back when it was popular and profitable. Decided to stay on past the point of when it wasn't. It's the desire to say something original combined with the fear of a civilian day job that perpetuates the illusion of forward progress. The trick is to find the balance point between any financial burdens incurred and the even weightier responsibility of originality. It appears the placement of this fulcrum has come to be the most important decision.
'(Fulton) represents the tough talking, risk-taking school of yankee comics,……..He's intelligent, remarkably relaxed on stage and clearly out to create a bit of mischief' Time Out-London
Jonny Awsum - Headliner
After completing an eight-year comedy apprenticeship as barman at The Chuckle Club, Jonny Awsum exploded onto the professional comedy scene with a crowd-pleasing set that's seen him perform hundreds of gigs all around the world.
With his likeable style and trusty guitar, Jonny's musings include everything from the white lies he tells his girlfriend to his new home town of Croydon and the memory of his first love at eight years old.
Jonny's feel-good set captivates audiences at every kind of venue from pub back rooms to 700 seat theatres to a sell-out run at the Edinburgh Fringe with his hit show 'Jonny Awsum's To Do List'.
Jonny has played all the UK's top comedy venues including The Glee Club, Jongleurs and The Comedy Store and has performed internationally everywhere from Cyprus to Slovakia.
In 2017, he was broadcast to huge acclaim on the nation's biggest-rating ITV show, Britain's Got Talent. Performing alongside Ant & Dec, Jonny won a standing ovation from the theatre audience, a unanimous vote of approval from the judges and was seen by 11 million TV viewers. Jonny was broadcast numerous times throughout the series and made it all the way to the Live Semi-Finals. His performances on the show have been viewed more than 30 million times on YouTube.
"He's awesome!"- Time Out Magazine
Daniel Muggleton - Compere
Daniel Muggleton is an Australian stand-up comedian from Sydney, which is objectively a better city than Melbourne, just trust him. He is currently based in London, UK.
He has sold out shows at festivals around Australia: Melbourne International Comedy Festival, Sydney Comedy Festival, Adelaide Fringe, Canberra Comedy Festival, Darwin Fringe & Sydney Fringe – as well as at The Edinburgh Fringe. Daniel was twice selected as a FRESH Artist to Watch at The Sydney Comedy Festival in 2014 & 2015, he has been invited to perform an encore of his 2016 show 'Let Me Finish' at The Comedy Store, Sydney and performed as part of the Sydney Comedy Festival Showcase Tour & Break Out Showcase in 2017.